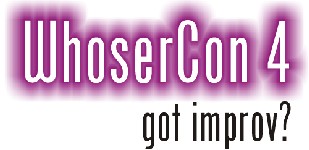 MOCHRIE'S
Whoser Con 2001 Video Gallery
(VIDEOS ARE IN 'AVI' FORMAT)
To play these files, you should use Windows Media Player! These clips use the MPEG-4 codec, and if
you do not have this codec, you can find it HERE!
All video clips copyright (c) 2001 Emile Jumean

WHOSERCON 4 CLIP OF THE WEEK
UPDATED MAY 8, 2002

Sound Effects
Carey, Barry, Ralph and Ginette perform a scene of firefighters making a call,
and Mary provides the sound effects for them.

WHOSERCON FLASHBACK OF THE WEEK
UPDATED MAY 8, 2002
Let's journey even further back in time to relive some more fun WhoserCon moments.

Kath G's Trainspotting Parody
From WhoserCon 3 (2000). KathG performs a WL-related parody of
Trainspotting for Open Mike morning.

Click on the logo below to return to main Whoser Con 2001 page!