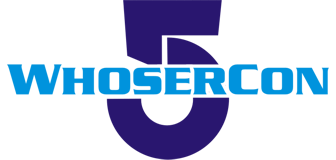 MOCHRIE'S
Whoser Con 5 Multimedia Gallery
Here you will find weekly video and audio clips of the fun and games
from Whoser Con 5, in beautiful downtown Toronto.
VIDEO CLIPS ARE IN 'AVI' FORMAT
To play these files, you should use Windows Media Player! These clips use the MPEG-4 codec.

AUDIO CLIPS ARE IN 'MP3' FORMAT
To play these files, I recommend either WinAmp or Windows Media Player!
All multimedia clips copyright (c) 2002 Emile Jumean

WHOSERCON 5 VIDEO CLIP OF THE WEEK
For The Period Of July 31-August 6, 2002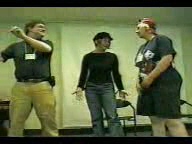 Two-Line Vocabulary
Tracy, Angela and Eric tackle this hilarious game of Two-Line Vocabulary set in a print shop.
In my humble opinion, this was one of the funniest games played all weekend! Well done you guys!

WHOSERCON 5 AUDIO CLIPS OF THE WEEK
Coming Soon.....Someday..... :-)

Click on the logo below to return to main Whoser Con 5 page!